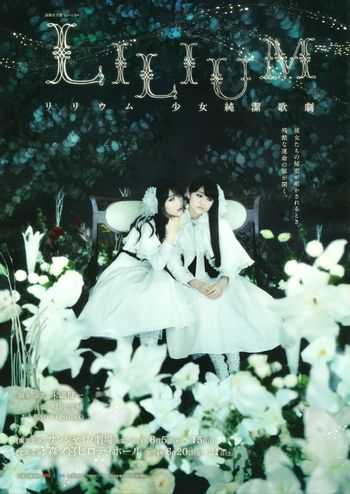 LILIUM -Lilium Shoujo Junketsu Kageki-
(LILIUM -リリウム少女純潔歌劇-, lit. "Lilium Girls' Purity Theater") is a musical that stars select members of
Hello! Project
, namely seven members of Morning Musume '14, all six members of S/mileage, and three members of Hello Pro Kenshuusei. The musical is written and directed by Kenichi Suemitsu, and it is the second installment in his
TRUMP
Vampire Musical
series following the series' namesake.
Set in a sanatorium isolated from the human world, the story concerns a group of young vampires. Sylvatica (Sakura Oda) goes missing and Lily (Riho Sayashi) resolves to search for her, but her peers have never heard of anyone named Sylvatica. A mysterious and quiet girl, Snow (Ayaka Wada), advises her to give up on her search. However, the truth of Sylatica's disappearance also brings forth the truth regarding the fate of these vampire girls.
The production ran from June 5 to 21, 2014. A soundtrack album was released at the theater's goods shop, and a complete edition was packaged along with the DVD release.
During a special reunion event in 2015, all the members of Morning Musume '15 and ANGERME (formerly S/mileage) performed a short play that served as a prequel to the events of LILIUM, called Nirinzaki. Most of the original cast members reprised their roles, while those who were not in LILIUM portrayed new characters.
This story employs notable plot twists near the ending. Be warned that this page contains spoilers!
---
LILIUM provides examples of:
Nirinzaki provides examples of:
---