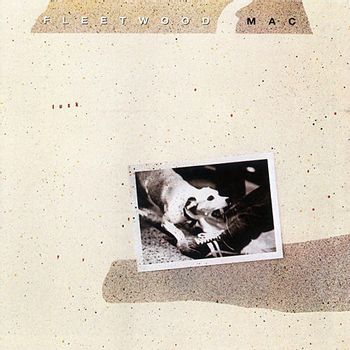 "Fleetwood Mac is subverting the music from the inside out, very much like one of John le Carré's moles - who, planted in the heart of the establishment, does not begin his secret campaign of sabotage and betrayal until everyone has gotten used to him, and takes him for granted."
—From Greil Marcus' favourable review of the album
Tusk is the twelfth studio album by Fleetwood Mac, released in 1979. It was the eagerly anticipated follow-up to the 1977 classic Rumours, the top-selling album of that year and one of the biggest hit albums of the decade, so the band, and especially singer/guitarist Lindsey Buckingham, wanted to take some risks with Tusk. Compared to Rumours which had an upbeat pop/rock sound, Tusk was for the most part a bizarre collection of music influenced by Punk Rock and New Wave Music—similar to The Beatles' transition from Sgt. Pepper's Lonely Hearts Club Band to The White Album.
Despite the anticipation, the album was seen as a commercial failure. First, the album was the most expensive ever made to date, having cost $1 million to makenote partly because producer Lindsey Buckingham often put so much work into instrumentation and layering but ended up just having the percussion track be himself playing on a tissue box. Second, double albums were sold at higher prices than single albums because of the higher content of music. Finally and most crucially, the RKO radio network broadcasting the entire album ahead of time, allowing for extensive home taping. Despite all of this, the album has sold four million copies during its time out in the open, and since has been remembered as one of their best works, possibly even their single best.
The album was ranked at #445 on NME's 500 Greatest Albums of All Time. It is currently ranked at #1833 on Acclaimed Music's compendium of various critics' greatest albums lists.
---
Tracklist:
LP One
Side One
"Over And Over" (4:35)
"The Ledge" (2:02)
"Think About Me" (2:44)
"Save Me A Place" (2:40)
"Sara" (6:26)note
Side Two
"What Makes You Think You're The One" (3:28)
"Storms" (5:28)
"That's All For Everyone" (3:04)
"Not That Funny" (3:19)*
"Sisters Of The Moon" (4:36)
LP Two
Side Three
"Angel" (4:53)
"That's Enough For Me" (1:48)
"Brown Eyes" (4:27)
"Never Make Me Cry" (2:14)
"I Know I'm Not Wrong" (2:59)*
Side Four
"Honey Hi" (2:43)
"Beautiful Child" (5:19)
"Walk A Thin Line" (3:44)
"Tusk" (3:36)
"Never Forget" (3:40)
Note: CD releases are across a single disc*CD releases use a different mix from the LP version
---
Principal Members:
Lindsey Buckingham - lead vocals, guitar, piano, bass, harmonica, drums, percussion
Mick Fleetwood - drums, percussion
Christine McVie - lead vocals, keyboard, piano, accordion
John McVie - bass
Stevie Nicks - lead vocals, keyboard
---
Save me a trope, I'll come runnin':
Alliterative Title: "Honey Hi", "Over & Over"
Arc Words: "Don't blame me" appears both in "Not That Funny" and "I Know I'm Not Wrong." This stanza also appears in both songs, with the same melody:

Here comes the nighttime
Looking for a little more
Workin' on checkin' out
Somebody outside the door

Auteur License: The success of Rumours gave the band one. Warner (Bros.) Records revoked it after the album's relative failure. Mirage was a self-consciously commercial effort.
Boléro Effect: "Tusk" qualifies, since it opens with Fleetwood's repeated drum pattern and builds up from there.
Cover Album: Camper Van Beethoven did a full-album cover of Tusk in 2003.
Deliberately Monochrome: The cover is a black and white snapshot of a biting attack dog, off-centre on an off-white background.
Epic Rocking: "Sara", "Storms" and "Beautiful Child" are all over five minutes. Being the longest song on the album, "Sara" was initially trimmed by about two minutes on early CD versions; Due to the technology at the time, the album would otherwise be just a little too long to fit on a single disc.

Before the album's release, "Sara" was over 14 minutes long. Lindsey Buckingham, who produced the album, cut it by eight minutes to save time.

Genre Roulette: Due to the diverging interests of the three singer-songwriters. Christine McVie's work became a little jazzier; Stevie Nicks mostly stayed true to folk and country rock; and Lindsey Buckingham's songs were a product of his reverence for Brian Wilson and his newfound interest in Punk Rock and New Wave Music.
Green-Eyed Monster: "Tusk" is pure, uncut simmering romantic jealousy set to music.
If I Can't Have You...: "The Ledge" certainly sounds it.

"Do you ever wonder
Do you ever hate
Six feet under
Someone who can wait
You can love me baby but you can't walk out
Someone oughta tell you
Oughta tell you what it's really all about."

Important Haircut: Lindsey Buckingham shed the Funny Afro he had on Rumours.
Irony: In their attempt to invoke the do-it-yourself aesthetic of Punk Rock, Buckingham and company spent a lot of money, booking tons of studio time only to end up recording percussion tracks on a desk chair in a bathroom.
Large Ham: The whole band gets a moment of this during the Title Track. All the instruments cut out except for a drumbeat and a guitar. Things are mellow for a moment. And then, everyone at once:

TUSK!

Miniscule Rocking: "That's Enough for Me" never hits the two-minute mark, while "The Ledge" and "Never Make Me Cry" just barely cross it.
Mood Whiplash: The contrast between the tense and brassy "Tusk" and the warm love song "Never Forget" is only slightly less jarring than the "Revolution #9"/"Good Night" split on The White Album.
The Not-Remix: The 2015 remaster substitutes a completely different version of "I Know I'm Not Wrong".
---