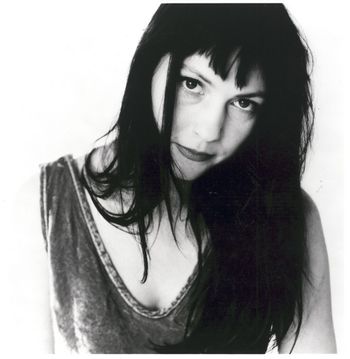 Lisa Ruth Germano (born June 27, 1958) is a Dream Pop musician and multi-instrumentalist (guitar, violin, piano, drum machines, occasional bass) from Indiana.
She got her start in the industry as a prolific session musician, first joining John Mellencamp's band in 1987 and proceeding to work with other artists like Simple Minds, David Bowie, Yann Tiersen, Neil Finn, Sheryl Crow, Iggy Pop, Jewel and Eels.
Starting with 1991, she has put out solo work that is innovative and extraordinary. Her music is Dream Pop/Baroque Pop (specifically, the minimally-arranged melancholic This Mortal Coil brand of dream pop) infused with alternative darkness and some folk rock elements. Her songwriting is melancholy yet kooky at times.
However, you have likely not heard it because of Lisa's long string of bad luck with labels and the industry. Her first album, On the Way Down From the Moon Palace, was issued on her own label and therefore didn't win a wide audience but did convince Capitol Records to take a chance. However, just before the release of Happiness, a reorganisation at Capitol axed the jobs of the executives who supported her and killed promotion. Lisa gained back the rights and moved to famous dream pop label 4AD Records. There, she remixed some of the tracks with 4AD's in-house producer John Fryer and put out two more well-received albums. However, 4AD's distribution deal with Warner (Bros.) Records expired in 1998, meaning less resources to promote Slide. That same year, Lisa was hired as backing vocalist for The Smashing Pumpkins' upcoming tour, then fired on the day it was about to begin, and while touring by herself to promote Slide 4AD notified her that she'd be dropped from the label. She quit the music biz for 4 years, then returned only to have another critically-acclaimed album be released on a short-lived label and finally finding a more-or-less permanent home on Young God Records (signed personally by Michael Gira because he was a fan of her music).
---
Discography:
On the Way Down From the Moon Palace (1991)
Happiness (1993 on Capitol originally, was re-released with a different sequencing and new songs in 1994 on 4AD)

Inconsiderate Bitch (1994, EP comprised of alternate mixes of some songs from Happiness made by John Fryer)

Geek the Girl (1994)
Excerpts From a Love Circus (1996)
Slide (1998)
Concentrated (2002; her version of a Greatest Hits album)
Rare, Unusual or Just Bad Songs (2002; compilation of rarities)
lullaby for liquid pig (2003)
In the Maybe World (2006)
Magic Neighbor (2009)
No Elephants (2013)
---
Lisa provides the following tropes:
---