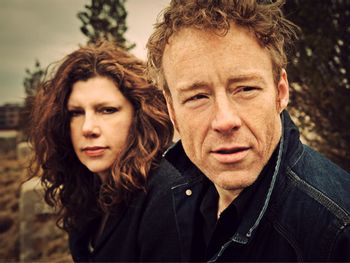 Low are a Minnesotan
Alternative Rock
band formed in 1993, chiefly known for being largely the
Trope Namer
for the silly-titled subgenre
Slowcore
.
The band's concept began as a joke between guitarist Alan Sparhawk and bassist John Nichols of indie band Zen Identity, wondering what would happen if they tried playing quieter music to the loud, Grunge-oriented alternative crowds of Duluth. Growing serious about trying, Sparhawk and Nichols left Zen Identity, and formed Low with the addition of Sparhawk's wife Mimi Parker on a drumkit consisting entirely of a cymbal and a floor tom.
While the bassist position underwent some changes, and the band later moved towards experimentation with electronic music, Low's music is largely centered around some easily identifiable traits:
Sparhawk and Parker's acclaimed vocals and harmonies.
Minimal instrumentation (especially compared to their Dream Pop antecedents like Galaxie 500)
Slow, dirgey tempos marked by very simple rhythms
Use of reverb for atmospheric purposes
General avoidance of excessive studio trickery (setting them apart from other Dream Pop bands)
After being diagnosed with ovarian cancer in 2020, Mimi passed away 5 November 2022
.
Album discography (not counting EPs and singles):
I Could Live in Hope (1994), the only album recorded with John Nichols, who left the band afterwards
Long Division (1995), their first album with bassist Zak Sally
The Curtain Hits the Cast (1996)
Secret Name (1999)
Things We Lost in the Fire (2001)
Trust (2002)
A Lifetime of Temporary Relief (2004) (compilation)note
The Great Destroyer (2005)
Drums and Guns (2007), for this album Sally was replaced by Matt Livingston
C'mon (2011), their first album with bassist Steve Garrington
The Invisible Way (2013)
Ones and Sixes (2015)
Double Negative (2018), their final album with Garrington, who left in 2020. Sparhawk and Parker chose to carry on as a duo.
Hey What (2021)
Not to be confused with the seminal David Bowie album.
---
Tropes used by Low:
---