"I'm the boss!"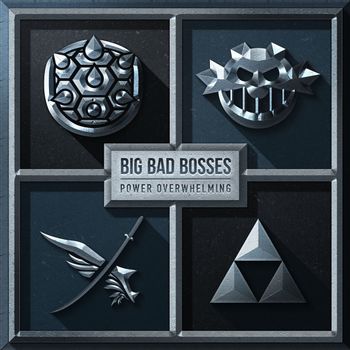 Big Bad Bosses
, or just B3, is a comedy pop group started by site members of That One Video Gamer, the singers being Jirard Khalil (The Completionist), Alex Faciane (NationalDex), Satchell Drakes (SatchBags), and Nathan Sharp (NateWantsToBattle), with music composed by Jake Kaufman, the composer for the Shantae series and Shovel Knight. They are a "turn of the millennium" style Boy Band group, but all of them play super villains from popular games. In-universe, the four members are Bowser (Big-Bow, played by Jirard), Dr. Ivo "Eggman" Robotnik (Ronik, played by Alex), Ganondorf (G-Cash, played by Satchell), and Sephiroth (Sephy, played by Nate). The band serves as an Affectionate Parody of both late 90's to early 2000's boy band styles, as well as evil video game characters themselves.
Their first album, Power Overwhelming, was released on December 22, 2015. It has a ton of cameos in it. It can be found on Bandcamp
, iTunes
, and Google Play
. Their debut single, "I'm the Boss"
, was given a music video in 2015. In 2016, they've released their second music video, "Angel"
. In 2018, they released a third music video, "Egg Man"
.
I'm The Tropes:
---