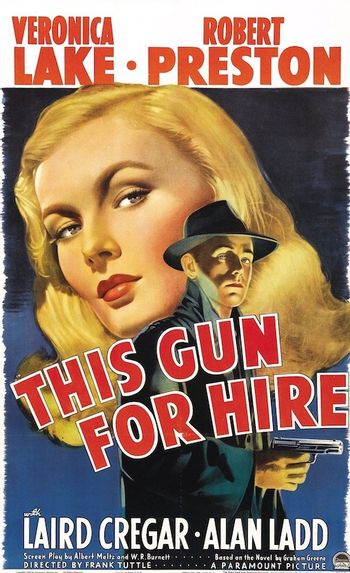 This Gun for Hire is a 1942 Film Noir directed by Frank Tuttle, starring Robert Preston, Veronica Lake, and Alan Ladd.
Ladd is Philip Raven, a San Francisco hitman with a soft spot for cats, who kills a blackmailer named Baker. Raven retrieves a stolen chemical formula from Baker and brings it to his employer, Willard Gates (Laird Cregar). Gates then double-crosses Raven by reporting the money he gave Raven for the job as stolen from the bankroll of his company, Nitro Chemical. Raven goes on the run from the police, led by visiting LAPD detective Michael Crane (Preston).
Meanwhile, Crane's girlfriend, stage singer and magician Ellen Graham (Lake), is enlisted by the feds to get info about Nitro Chemical by auditioning for Gates, who also owns some nightclubs. The government believes that Nitro Chemical is selling chemical weapons to the Japanese. Ellen takes the train to Los Angeles to start her job at Gates's club and spy on Nitro—and winds up in a seat next to Raven, the fugitive.
This Gun for Hire made a star out of Alan Ladd, who had been working as a bit player and in small parts for years (he's one of the reporters in Citizen Kane). He and Lake were a successful screen couple due in part to their chemistry and also because they were both short—five foot zero Lake matched up better with 5'6" Ladd than other actresses did. Lake and Ladd would go on to make four films noir together. It also received an overseas remake in France known as Le Samouraï directed by Jean-Pierre Melville and starring Alain Delon as Jef Costello, the film's version of Philip Raven.
---
This work exhibits the following tropes:
---