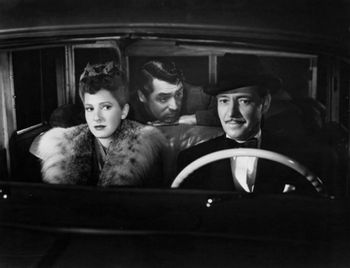 "What is the law? It's a gun pointed at somebody's head. All depends upon which end of the gun you stand, whether the law is just or not."
—Leopold Dilg
The Talk of the Town is a 1942 comedy-drama film directed by George Stevens, starring Cary Grant, Ronald Colman, and Jean Arthur.
Grant is Leopold Dilg, a labor activist who is on trial for arson and murder in regards to a fire that burned the local mill. Dilg, who claims that he is being set up by the unethical mill boss, escapes from prison and finds his way to the home of his old girlfriend, Nora Shelley (Arthur). Arthur is fixing up the house in order to rend it to eminent law professor Michael Lightcap (Colman), who is due to arrive the next day. Nora agrees to let Leopold hide there for the night, but then Professor Lightcap arrives that same night, a day early. Hilarity Ensues and romance blooms as Nora frantically tries to hide Leopold from Michael—eventually passing Leopold off as the gardener—while at the same time trying to convince to intervene in the Dilg case and clear Dilg's name.
---
Tropes in this work: