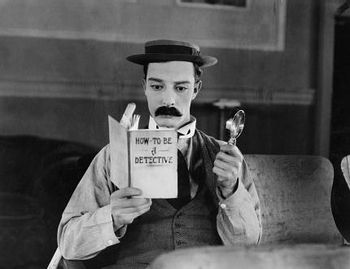 "While employed as a moving picture operator in a small town theater he was also studying to be a detective."
— Intertitle
This 1924 Buster Keaton film is an oddity — longer than the average comedy short but not long enough to be a feature film, it's an Affectionate Parody of the 1922 John Barrymore film Sherlock Holmes, with Buster playing a movie projectionist and would-be sleuth. Framed for theft by a romantic rival and unable to prove his innocence, the protagonist goes back to the movie theater where he works, dozes off next to the projector, and dreams that he is Sherlock, Jr., the World's Greatest Detective.
Today, the movie is best remembered for the sequence in which the projectionist's ghostly dream avatar walks into the movie screen, where a series of jump cuts places him in embarrassing and dangerous situations. These scenes may have inspired or influenced Woody Allen's The Purple Rose of Cairo (in which a character from a Depression-era romantic comedy steps off the screen into the real world), the Arnold Schwarzenegger film Last Action Hero (in which a young boy enters an action movie and brings the hero into reality), and the Merrie Melodies short "Duck Amuck" (in which Daffy Duck is tormented by an animator).
The dream concept gave Keaton leeway to push the boundaries of his filmmaking. He takes the opportunity to recreate some classic vaudeville stunts, including one startling moment when he appears to jump through another actor's torso. The high-society setting of the dream also gave him an excuse to use more luxurious sets and costumes than was usual in his films.
This film is available on YouTube
.
---
Sherlock Jr. provides examples of:
---