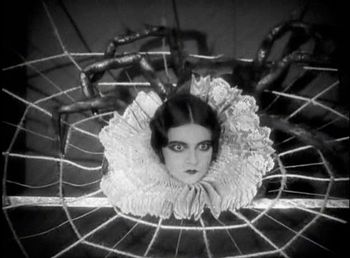 The Show is a 1927 film directed by Tod Browning, starring John Gilbert, Renee Adoree, and Lionel Barrymore.
Gilbert plays Cock Robin, a sideshow carnival barker in Budapest. He has some sexual tension with Salome, one of the performers in his show, but Salome has a boyfriend. Her boyfriend is "the Greek" (Barrymore) who also happens to be a knife-wielding murderer and sociopath. Robin isn't much better, being an amoral opportunist who is romancing Lena, a naive country girl, with eyes towards stealing her money.
Robin's plan to rob Lena of her money hits a snag when the Greek, who also wants the money, murders Lena's father. Robin, suspected of the murder, hides out in Salome's apartment. The Greek, who both wants the money and wants to kill Robin, tracks him to Salome's place.
---
Tropes: