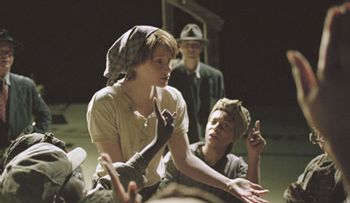 Manderlay is a minimalist drama directed by Lars von Trier, following on from Dogville (the first in an ongoing trilogy that may never be finished). Many of the same roles are reprised from Dogville, though with a few exceptions, the entire cast has changed.
As with the previous film, Manderlay follows the exploits of Grace (Bryce Dallas Howard), who is now fleeing across 1930s America with her father (Willem Dafoe) and his band of gangsters. As they stop to take rest, Grace discovers the Manderlay plantation, which still relies on slave labour. Grace takes it upon herself to out the plantation owners and free the slaves. Following a warning from her cynical father, she decides it would be safer to stay (along with a retinue of hoods) and assist with the transition from slave camp to free enterprise. Like in Dogville, little goes to plan for the idealistic, headstrong Grace, or her fledgling democracy.
As with its predecessor, the film is notable for its limited (or invisible) props, taking place on a sound stage that is marked out with painted lines, like a giant blueprint. The design leads to a stage play feel and intensity, but can be initially difficult to get into.
---
This film provides examples of:
---