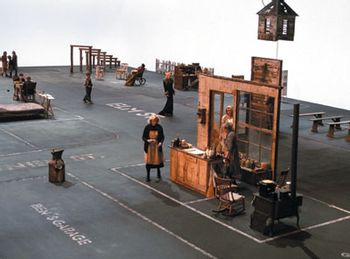 Dogville is a 2003 minimalist drama film directed by Lars von Trier and starring, among others, Nicole Kidman, Paul Bettany, Harriet Andersson and Lauren Bacall. It's based on the poem "Jenny die Seeräuberbraut" ("Pirate Jenny" or "The Black Freighter") from Bertolt Brecht's The Threepenny Opera. It's also inspired, in part, by Friedrich Dürrenmatt's play The Visit. It is very, very hard to watch, and not for kids, despite getting a 12+ rating in some countries.
The story focuses around Grace, a woman running from The Mafia, who stumbles upon the tiny village of Dogville and is found by Thomas Edison, Junior (no relation). Grace and Tom convince the townsfolk of Dogville to let her stay in exchange for her performing odd jobs around town. As she finds jobs to perform for each resident, Grace soon gets to know all them, but her role as a subservient outsider gradually pushes her relationship with the town into dark territory.
The film is distinctive for being shot on a single sound stage, with the sets drawn on the floor and only a bare minimum of props visible. The minimalist aspects of the film, like the plot, are based on Bertolt Brecht's epic theatre: Brecht once said a play never needs to be more complicated than "a man on a street corner re-enacting an accident for a crowd". He also stated that an actor should always be presented as themselves playing a character instead of as a character, to prevent total immersion, and to encourage critical reception. It shows.
The film is the first installment of a planned (and currently unfinished) "Land of Opportunities" trilogy, all sharing the same visual style and plots highly critical of American culture. The second installment, Manderlay, takes place in the Deep South and comments on racism. It's based in part on Brecht's opera The Rise and Fall of the City of Mahagonny and replaces Kidman with Bryce Dallas Howard as Grace. The third installment, Wasington [sic], has yet to emerge from Development Hell, and most likely won't see the light of the day.
---
This film provides examples of:
---