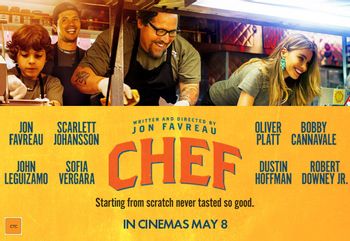 "You will never be happy, cooking for someone else."
— Molly
Chef is a 2014 comedy film written by, directed by, and starring Jon Favreau. It tells the story of the chef of a successful Los Angeles restaurant who is unhappy at where he is in his life. After a devastating review and misunderstandings on how Twitter works, wackiness and job loss ensues, so he follows his ex-wife and son to Miami and begins a new venture running a food truck. Has appearances by a bunch of people from his other films, including Scarlett Johansson and Robert Downey Jr..
A related series, The Chef Show, premiered on Netflix in 2019. It is less an adaptation and more a Spiritual Successor, with Jon Favreau and friend chef Roy Choi
(whose own life serves as inspiration for the film), indulging their love of food and demonstrating simple-yet-fascinating recipes. Cameos from many people Jon Favreau worked with (but especially those from the Marvel Cinematic Universe) abound.
---
Chef provides examples of:
---