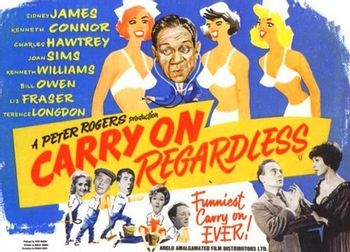 Carry On Regardless is the fifth Carry On film in the popular British film series. It starred Sidney James, Joan Sims, Charles Hawtrey, Terrence Longdon, Bill Owen, Kenneth Connor, Esma Cannon, Kenneth Williams and Liz Fraser.
Regardless is based around a job center named Helping Hands that works with the unemployed or job-seekers, run by Bert Handy (James) and his assistant Miss Cooling (Cannon). Seven people turn up to join the agency for a new start — unhappy labour exchange clerk Sam Twist (Connor) and six labour exchange regulars, the upper class Montgomery Infield-Hopping (Longdon), the working class Mike Weston (Owen), the multilingual Francis Courtenay (Williams), the clumsy Gabby Dimple (Hawtrey), the brassy Lily Duveen (Sims), and the more reserved Delia King (Fraser).
They are given a succession of ludicrous jobs, such as Francis becoming a translator for a bilingual married couple and looking after a monkey, Lily becoming drunk in a wine-tasting event, Gabby entering the boxing ring, Sam confusing phone calls and a group of nuns being sent to a hospital. Hilarity Ensues.
Did we mention there was a monkey?
---
Tropes Included:
---