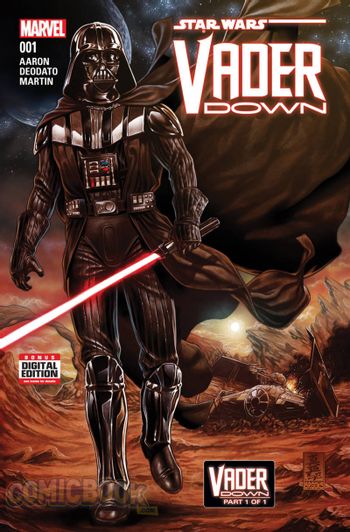 It is a period of unrest in the galaxy. The Sith Lord
Darth Vader, enforcer of the Galactic Empire, has learned
that Luke Skywalker was the rebel pilot responsible for blowing
up the Death Star.

New to the ways of the Force, Luke has discovered the
journal of Ben Kenobi and has begun investigating any
information he can on the Force-using Jedi Knights and their ways.

Through the underworld sources of his secret ally, Dr. Aphra,
Vader has received word of Luke's location-the former Jedi temple on the planet
VROGAS VAS...
Star Wars: Vader Down is a six-issue Crossover of Marvel's Star Wars and Star Wars: Darth Vader comics, set in the rebooted Disney Star Wars Universe.
While chasing Luke Skywalker, Darth Vader crashes on a remote planet that happens to be a Rebel training camp. The entire Rebel Alliance converges on him to try and rid themselves of one of their greatest foes. But Vader still has a few allies of his own...
The crossover event spans the following issues:
Star Wars: Vader Down (Part 1): a one-shot special issue.
Star Wars: Darth Vader #13
Star Wars #13
Star Wars: Darth Vader #14
Star Wars #14
Star Wars: Darth Vader #15
---
Star Wars: Vader Down provides examples of:
---