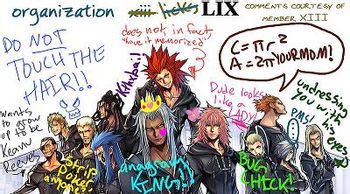 Organization LIX (shortened to Org Lix for easy pronouncing) is a series of audio dramas with the Organization members, Namine, Replica Riku (Repliku), and DiZ as the main cast, along with references to other Kingdom Hearts and Disney characters. Created by Schala-Kitty and Orin Drake two years ago, they have gained notoriety for their off-the-wall humor and yaoi fanservice prevalent in all their work.
A veritable gold mine of tropes if you'd like to waste a few hours of your day. It can be heard at OrgLIX.Org
.
OrgLIX also has a Final Fantasy VII Crisis Core Spin-Off series called "Crisis Perverted", with all that entails.
---
Tropes:
Tropes (Crisis Perverted):
---