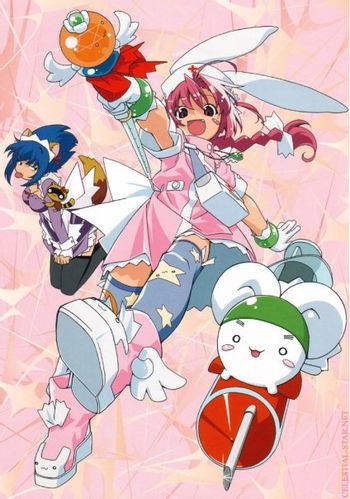 Nurse Witch Komugi is an OVA series produced by studios Tatsunoko Production, TMS Entertainment and Kyoto Animation (the latter two for the first two episodes only), spanning six episodes. Five episodes were produced in 2002 with a supplementary episode chronologically located between episodes 2 and 3 later created in 2003.
The OVA was later adapted to an Manga under the same title illustrated by Rei Nakajima and published by Hakusensha in their magazine Young Animal Arashi. The Manga spanned two volumes produced between September 29th, 2003 and August 27th, 2003.
A sequel OVA was also produced by studio Tatsunoko under director Kou Matsuzono with the title of Nurse Witch Komugi-chan Magicarte Z. Spanning two episodes the sequel OVA was released September 10th, 2004.
All versions of the work follow the same basic premise, a parody of Magical Girl Anime and more specifically The SoulTaker. The plot follows Komugi Nakahara, a cosplay idol who turns into the Magical Nurse Witch Komugi when trouble is around.
A remake, Nurse Witch Komugi R, was released in January 2016. Other than sharing some names, it's unrelated to the original.
---
Tropes:
---