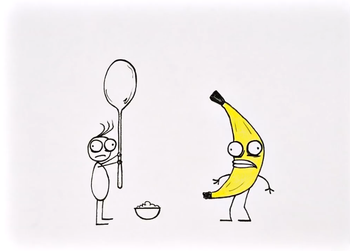 In the spring of 1999, the Family Learning Channel commissioned animator Don Hertzfeldt to produce promotional segments for their network. The cartoons were completed in five weeks. The Family Learning Channel rejected all of them upon review, and they were never aired...
Rejected is a collection of animated shorts from animator Don Hertzfeldt. He utilized a very minimalist approach to the artwork and incorporated very surreal elements. It was nominated for the Academy Award for Best Animated Short Film in the year 2000.
Watch it here
.
The cartoon is only 10 minutes long, so spoilers are unmarked. All the better reason to watch the cartoon before reading this page.
---
These shorts provide examples of:
---