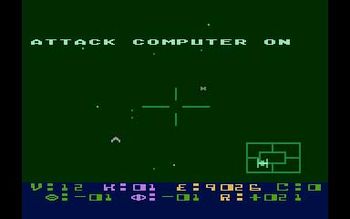 Star Raiders
is a video game for
Atari 8-Bit Computers
developed by
Doug Neubauer
(also the designer of the system's POKEY sound chip) and released by
Atari
in 1979. Intended as an action version of the
Star Trek Text Game
, it is most notable for being one of the earliest examples of the "
space combat simulation
" genre, and is a clear ancestor to later titles like
Wing Commander
and
X-Wing
. Stanford University selected it in 2007 as one of the
10 Most Important Video Games Of All Time.
The game tasks the player with finding and destroying an invading enemy fleet of Zylons, while simultaneously defending his own starbases from them. The player wins by destroying all enemies; the game is lost if either the player's ship or all of his starbases are destroyed. After consulting a Galactic Map to see where the Zylons are, the player must then warp to the sector, then find and engage them in a first-person view. The player can repair ship damage by docking with a starbase.
At the end of the game, the player receives a rank and class based on the difficulty level, time taken, and number of starbases lost; only the most proficient players would earn the coveted rank of "Star Commander - Class 1".
The game was ported to the Atari 2600, Atari 5200 and the Atari ST; the 2600 version came with a special touchpad controller. (This controller had a removable overlay, suggesting that it could be used in other games, but none were produced.) A graphic novel loosely based on the game was released in 1983. A sequel In Name Only, Star Raiders II, was released in 1986, with Neubauer's Atari 2600 game, Solaris, released the same year also serving as an unofficial sequel. A remake was released in 2011.
---
This game provides examples of the following tropes:
---