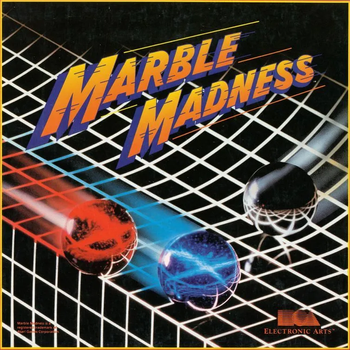 Time to finish Video Game page: 60
Marble Madness is a 1984 arcade game by Atari, created by Mark Cerny. The game is an isometric puzzle game, controlled by a trackball, where you lead the eponymous marble to a goal while dodging obstacles through six courses with artwork inspired by M.C. Escher. The game also features two-player competitive mode.
Not only was it the first Atari game to use the Atari System 1 hardware and be programmed in the C language, but it was also the first video game to use true stereo sound, and the first video game to use FM synthesis for sound.
Surprisingly, a sequel, titled Marble Man: Marble Madness II was in the works for release in 1991, but was cancelled at the prototype stage due to poor reception in testing markets and fear of it flopping against games such as Street Fighter II. Despite being canceled, the two prototype builds of the game circulated through the hands of collectors and made appearances at expos such as California Extreme. It wouldn't be until December 2021 that footage of the later prototype (simply titled Marble Madness II) would be uploaded online, and in May 2022, the later prototype was dumped, making it accessible to the wider public.
Compare Gyroscope, Spindizzy, and Snake Rattle 'n' Roll and, decades later, Super Monkey Ball.
---
Tropes:
---