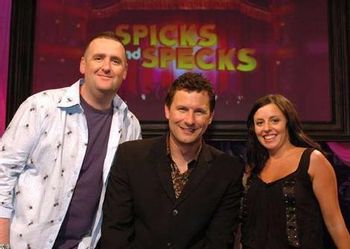 Spicks and Specks is a panel/gameshow on The ABC themed around music and musical culture. It was hosted by comedian Adam Hills and team captains Alan Brough and Myf Warhurst from 2005 to 2011, then relaunched in 2014 with a new host, Josh Earl, and new team captains, Ella Hooper and Adam Richard (both frequent guests of the former incarnation). The 2014 version ran for one season only, as the ABC decided not to renew it for 2015. However, Adam, Alan and Myf have since returned for a few themed one-off specials since 2018, and a brand new series featuring them is set to debut in 2021 due to popular demand.
The program is frequented by a wide range of musicians, comedians and the occasional actor. Classical, Jazz, Pop, Rock, Metal, Hip Hop, Country, Rap, Electro, Blues, Punk, Ska, Reggae, Emo, Dance, Beebop, Rocksteady, Brass Rock, <insert other obscure music style here>. Any and every music genre has probably been touched on at some stage.
Two teams go head to head as they sing, shout and delve deep into the recesses of their collective minds to help earn their team an extremely inglorious victory. Whether discussing the lyrical genius of Gilbert and Sullivan, the reasons Ozzy Osbourne wore a dress or just how a musician can choke on a harmonica, no musical genre is overlooked well, except for maybe Swedish folk music, but hey, we've all got limits. Video clips, album covers, and information you never thought anyone could know the answer to, Spicks and Specks enlightens and entertains - and exposes the world of music like never before.
The ABC has a policy of keeping all of its content as available to the public as possible, so clips and entire episodes can be found on their website
and on YouTube.
---
Tropes present:
---