"
Marge, can we trade? I don't trust these guys.
"
—
Homer
during one of his and Marge's
Scenery Censor
moments in this episode.
Original air date: 5/17/1998
Production code: 5F18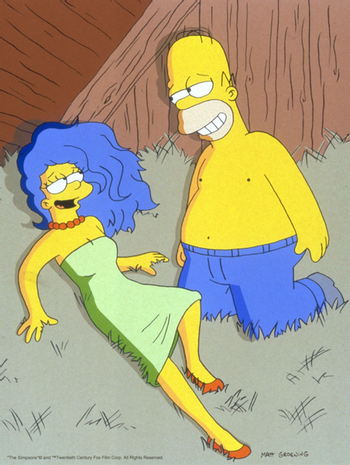 Homer and Marge's 11th anniversary has struck, and they're ready for a fancy evening at the Gilded Truffle. But when Grampa takes a wrong turn, the kids are left without a babysitter. Because of this, they are forced to take the kids to a loud, kitschy family restaurant, and their evening is spoiled. That night, they find that, despite it being a special occasion, they can't get in the mood for lovemaking either, further depressing them. The next day, because Homer accidentally left the freezer open, they have to go to the backwoods part of town to try and get a new motor, all the while lamenting on how much of a rut they're in. A sudden storm kicks up, however, and the two have to rush to a nearby barn for safety. After a near-fatal encounter with the owner of the barn, the two find themselves in a very amorous mood, and have themselves a
Roll in the Hay
.
Meanwhile, Bart and Lisa have found Grampa's old metal detector, and intend to use it to find buried treasure. Their first few attempts, however, mostly pick up nothing but buried junk.
After the incident at the farmhouse, the two find themselves once again in a romantic mood, and book an evening at a local bed and breakfast. However, they find themselves in a rut once more, worried that they may have lost the spark. But when a maid walks in on them, they find that they're actually turned on by the chance of getting caught, and begin public lovemaking sessions.
As for Bart and Lisa's treasure hunt, the two find a true treasure buried near the Aztec Theater: a film reel with an alternate ending to Casablanca, one where Rick and Jane end up together. Apparently, the Old Jewish Man worked on the movie, and tried to tack the ending onto the picture. He then bribes the kids to bury the movie again, along with another film reel with a Killing Spree Ending to It's a Wonderful Life.
Now that Homer and Marge know what gets each other going, they return to the golf course where Bart was conceived, and start getting intimate with each other. However, while they're in the act, the Flanders' end up golfing at that same hole, and sure enough, their ball gets stuck. This alerts the other golfers that something's inside the hole, to which Moe decides to smoke them out with Carbon Monoxide.
In a panic, Homer and Marge knock over their hiding place, just narrowly avoiding detection. However, they left their clothes at the golf course, leaving the two being chased around Springfield completely naked. As they try and get home without being seen, they end up cornered in a used car lot, the only exit being the hot air balloon decoration. This doesn't do any better for them; Homer's attempt to grab clothes leads to him falling out and dangling from a rope, not to mention slamming rear-first into the glass ceiling of a church. At Homer's insistence, Marge sets the balloon down... into the middle of a football field. In the middle of a game. On camera day.
Naturally, the two end up in the front page of the newspaper, and they're left trying to explain the details to the kids. While they explain, however, the two get excited, and go right back to the golf course.
Bart: They're gonna feel so silly when they realize they forgot us...
---
Tropes:
---