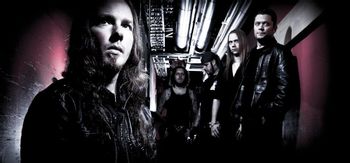 "Shining Hates You Exclusively."
— Back cover from Within Deep Dark Chambers
Shining is a well known Black Metal project that formed around 1996 in Halmstad, Sweden. The band is known for its vocalist and remaining original member Niklas Kvarforth, who's infamous for his lyrical themes of suicide, self harm, depression, and his overall misanthropic beliefs.
Having coined the name, they are often considered one of the best known bands of the DSBM (or "depressive/suicidal black metal") subgenre of black metal despite Niklas being heavily against the term due to later bands using it as a means of therapy instead of harming their listeners.
Not to be confused with the novel by Stephen King, as well as the movies, as Kvarforth has stated are not influenced by the band name. Same with the video game series. Or with the Norwegian Progressive Metal band also called Shining (which started out as jazz before passing through Progressive Rock), as they often are.
Members:
Niklas Kvarforth - Vocals, guitars, keyboards
Peter Huss - Guitar
Alex Friberg - Bass
Charles Hedger - Guitar
Nicholas Barker - Drums
Tuomas Tahvanainen - Keyboards
Core Discography:
I. Within Deep Dark Chambers (2000)
II. Livets ändhållplats (Life's Last Stop) (2001)
III. Angst - Självdestruktivitetens emissarie (Anxiety - The Emissary of Self-Destruction) (2002)
IV. The Eerie Cold (2005)
V. Halmstad (2007) note
VI. Klagopsalmer (Hymns of Lament) (2009)
VII. Född förlorare (Born Loser) (2011)
Redefining Darkness (2012)
IX. Everyone, Everything, Everywhere, Ends (2015)
X. Varg utan flock (Wolf Without a Pack) (2018)
Shining (2023)
Lots of Tropers Gonna Get Hurt...
---