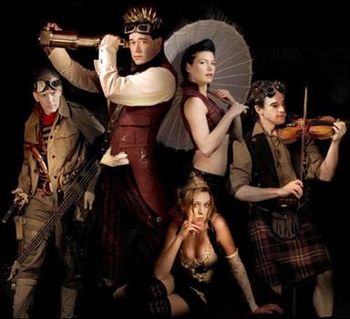 "We tried to make a buck, but we could barely stay aloft
Tried swinging a deal, but we pissed the wrong guys off
With a clockwork guitar, and a flintlock bass
We're blasting the past all over the place—
And now there's nothing left but Post-Apocalypse Punk!"
Abney Park is a Seattle-based steampunk band that mixes elements of industrial dance, and world music influences in their work. The band has a steampunk theme that they incorporate in their instruments, music, outfits, and even their own studio, which is actually pretty awesome. Really, is there more that needs to be said?
Current band members:
"Captain" Robert Brown - vocals, darbuka, diatonic button accordion, harmonica, bouzouki, bağlama, ukulele
Kristina Erickson - keyboards, vocals
Josh Goering - guitar, banjolele
Derek Brown - bass
Mitchell Drury - violin
Albums:
Abney Park (1998)
Return to the Fire (1999)
Cemetery Number 1 (2000)
From Dreams or Angels (2001)
Twisted & Broken: Abney Park Remixed (This album is available from the band as part of a special package)
Taxidermy (2005)
The Death of Tragedy (2005)
Lost Horizons (2008)
Aether Shanties (2009)
The End of Days (2010)
Off the Grid (2011)
Ancient World (2012)
Through Your Eyes on Christmas Eve (2012)
The Circus at the End of the World (2013)
Nomad (2014)
Wasteland (2015)
Under the Floor, Over the Wall (2016)
Crash (2017)
Scallywag (2018)
Iconoclast (2019)
Abney Park's New Nostalgics (2019)
Abney Park's Songs Of The Sea (2019)
Songs of Joy (2020)
Esoterica (2020)
Technoshanties (2021)
The band also produces an award-winning Role-Playing Game called Airship Pirates, and has published a Tie-In Novel of stories set in their backstory universe entitled "The Wrath of Fate."
---
They provide examples of:
---
And probably every other
steampunk
trope.