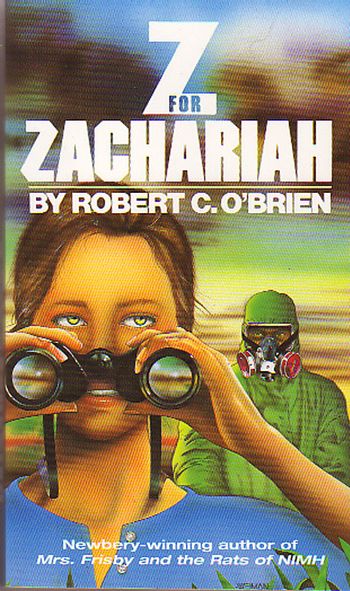 Z For Zachariah
is a 1974 novel by Robert C. O'Brien (the same author who wrote
Mrs. Frisby and the Rats of Nimh
, later made into
The Secret of NIMH
by
Don Bluth
). O'Brien did not finish the book before his death in 1973. His wife and daughter ultimately ended up completing the novel, aided by his notes.
It's a post-apocalyptic novel for young adults, following sixteen-year-old Ann Burden, who believes she's the only survivor of a nuclear war that seems to have wiped out the rest of the world. For a largely unexplained reason, the valley in which she lives seems to have escaped the nuclear fallout, meaning she's able to make it on her own.
A year after the war, another person, a man named John Loomis, finds her valley. He's survived thanks to a suit he designed before the war, a prototype of a radiation suit that had been planned to be mass-produced before the war interrupted it. He gives himself radiation sickness by bathing in a contaminated stream, leaving Ann to take care of him. At first he seems okay, but as he gets better he becomes more and more controlling and downright creepy, culminating in an attempt to rape Ann.
She runs away to the other side of the valley, where she tells him she will stay once she's finished taking care of the agricultural work and tending to the animals. What follows becomes a cat-and-mouse game with Loomis trying to force her to return, locking the small store where their seeds and fertilizer must come from, taking away the key to the tractor, and eventually trying to shoot her so she can't run away. Eventually she manages to steal the suit while he's out, and confronts him just before she leaves the valley, telling him that if he shoots her he really will be alone. Realizing he'll never get her to stay, he tells her he saw birds circling to the west, and the book ends with her writing in her journal, "I am hopeful."
There was a BBC made-for-tv movie in 1984, and a big-screen adaptation was released in 2015, starring Margot Robbie, Chiwetel Ejiofor and Chris Pine. The first trailer can be viewed here
.
---
This novel provides examples of:
---