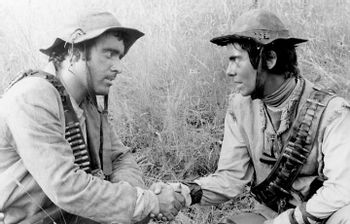 "Do you know, sir, why I had gone to those places? You needn't ask, I'll tell you. How is it that you can like the true in the false? Friendship with the illusion of disillusionment? I had it easy, but with dreams that left me tired. The sort from which you wake up slowly. Love? A bird that lays iron eggs. It was worse when I started staying awake all night, not able to sleep. Diadorim was one of those inscrutable persons —he never revealed his inner thoughts, nor what he was surmising. I think I was that way too. Did I really want to know him? I did and I didn't. Not even if you bury it in silence can a thing that doesn't make sense be dealt with."
Acclaimed as one of the most important books ever written in Portuguese language — maybe in the whole world
— and compared to works like The Iliad and The Divine Comedy, The Devil To Pay In The Backlands (Grande Sertão: Veredas, or Big Backcountry: Tracks in English) had its first edition published in 1956, being the only novel written by the Brazilian author João Guimarães Rosa.
The book is best know for mixing Neologisms with orality in a non-linear narrative, making it very difficult to understand at first reading, and for its more than 600 pages. It's also studied in Brazilian schools.
The story itself consists of Riobaldo, an ex-jagunço (mercenary), telling his past to a man from the city. What follows is betrayal, war, secret identity, conflicts with religion, friendship, homosexuality, deal with the devil and journey of revenge. Everything set in the almost mystical space of the backlands.
The book had two adaptations, one to the big-screen in 1965 and another in a mineseries from 1985.
The Devil to Pay in the Backlands provides examples of:
---
∞