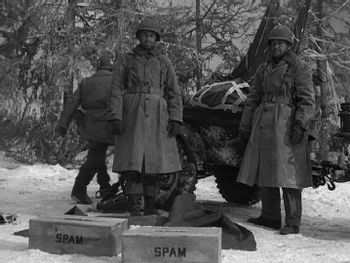 Battleground is a 1949 World War II movie dramatizing the Battle of the Bulge, and specifically the siege of Bastogne.
December, 1944: The men of the 327th Glider Infantry Regiment, 101st Airborne, are anticipating leave in Paris, but are instead hurriedly mustered and sent to the front. There they bivouac in the home of a pretty French lady and meet other American soldiers retreating through the town, who tell them that the Germans are mounting an offensive. The 327th then becomes part of the desperate American effort to halt the German drive to Antwerp.
Battleground was directed by William A. Wellman. It starred Van Johnson as Holley and John Hodiak as Jarvess. A young Ricardo Montalbán appears as Roderigues. Fans of The Shawshank Redemption may recognize James Whitmore, who played Brooks in that film and has a starring role as Kinnie in this one. Writer Robert Pirosh had been at Bastogne himself, and would later write Hell Is for Heroes and the TV series Combat!.
See also the 1965 film Battle of the Bulge, as well as the 2001 miniseries Band of Brothers, which dramatizes the siege of Bastogne in one episode.
---
Tropes: