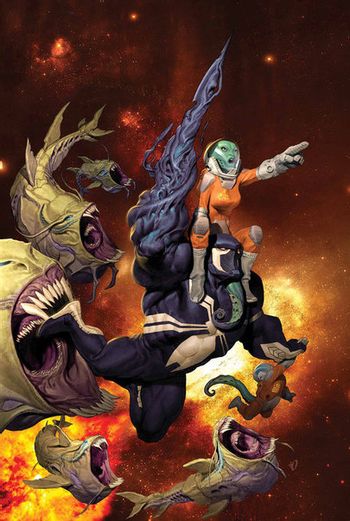 Venom: Space Knight is a 2015 - 2016 All-New, All-Different Marvel comic written by Robbie Thompson, with artwork by Ariel Olivetti, Kim Jacinto, R.B. Silva, Ario Anindito, and Gerardo Sandoval. The series focuses on Flash Thompson, aka Agent Venom, during his time in space in a post-Secret Wars (2015) Marvel Universe. As part of Marvel NOW! (2016), it was an indirect successor to Venom (Remender & Bunn) and was itself succeeded by Venom (Mike Costa) — with Flash losing the Venom symbiote to Lee Price.
After travelling to the Planet of the Symbiotes, learning of the true nature of the "Klyntar", and having the Venom symbiote purged of its hatred and bloodlust, Flash becomes an Agent of the Cosmos. Directed by the will of the Cosmos, Venom travels to worlds in need of protection or assistance in between missions with the Guardians of the Galaxy. During his adventures, he picks up an eclectic group of allies: 803, a suicidal robot; Iqa, the queen of a species of amazonian Gorgon-like aliens; Pik Rollo, a "space-panda" mercenary sent to kill him; Hilla Rollo, Pik's bloodthirsty daughter; and Tarna, a hot-tempered Skrull bonded to a symbiote and Flash's mentor as an Agent of the Cosmos.
An encounter with the space pirate Mercurio reveals that the Venom symbiote still has some unresolved anger issues, and Flash and the symbiote learn that if they are to redeem themselves they have to confront the failures of their pasts... provided that redemption is even possible.
For tropes related to the symbiote itself, individual hosts, and characters from the series, there is a Character Sheet here.
---
Venom: Space Knight has bonded with the following tropes:
---