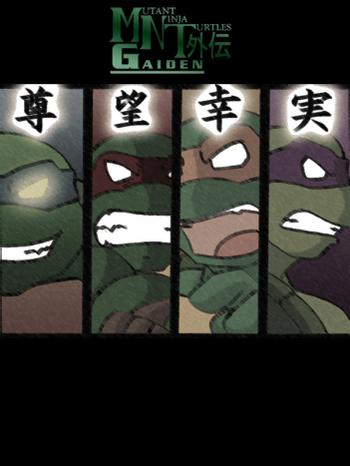 What happens when you mix the Teenage Mutant Ninja Turtles with Darker and Edgier? You get this gem of a fancomic.
Created in 2004 by an aspiring artist known in DeviantArt as Tigerfog, Mutant Ninja Turtles: Gaiden is an Alternate Universe doujinshi that takes place seventeen years after a pivotal event that happens in the comic's Prologue. The entire comic is hosted on Tigerfog's website.
The story begins when the Teenage Mutant Ninja Turtles were teenagers. Master Splinter recieves a package from an unknown sender, but leaves it hidden as he teaches Leonardo an old technique. As this happens, the ever-curious Michelangelo recruits Raphael so they could find out what Splinter received. They both find an old, broken katana and, from then on, certain characters begin to act unusually out-of-character. The conclusion of the Prologue leaves the four brothers psychologically traumatized.
Cut to seventeen years later, when the Ninja Turtles are adults. A mysterious fifth turtle shows up on the news, causing the older Raphael and Donatello to resurface once more in an attempt to recruit it. However, the fifth turtle, whom Raphael names Renoir, knows nothing about how he became a turtle. All he remembers are his memories as a human named Augustus Amherst. Despite this, Raphael takes Renoir under his wing, making Renoir his student and establishing the set-up of the main story.
This comic is a must see for any TMNT fan and is very well-recommended for people who enjoy a good plot and interesting character development.
To all future editors, please add tropes related to the characters to the Mutant Ninja Turtles Gaiden Character Sheet, not here in the main page.
---
This comic provides examples of:
---