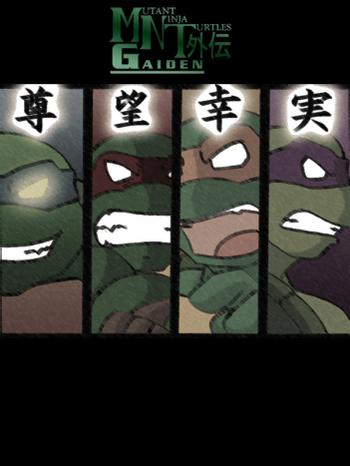 A Teenage Mutant Ninja Turtles fancomic with a Darker and Edgier story, in many ways closer to the original comics than the cartoons, started in 2004 by an aspiring artist known going by the name of Tigerfog. The entire comic can be found on Tigerfog's DeviantArt page
, or its own fan wiki
.
The story begins when the Teenage Mutant Ninja Turtles were indeed teenagers. Master Splinter receives a package from an unknown sender, but leaves it hidden as he teaches Leonardo an old technique. As this happens, the ever-curious Michelangelo recruits Raphael so they could find out what Splinter received. They both find an old, broken katana and, from then on, certain characters begin to act strangely out-of-character. The conclusion of the Prologue leaves the four brothers psychologically traumatized.
Cut to seventeen years later, when the Ninja Turtles are adults. A mysterious fifth turtle shows up on the news, causing the older Raphael and Donatello to resurface once more in an attempt to recruit them. However, the fifth turtle, whom Raphael names Renoir, knows nothing about how he became a turtle. All he remembers are his memories as a human named Augustus Amherst. Despite this, Raphael takes Renoir under his wing, making Renoir his student and establishing the set-up of the main story.
---
This comic provides examples of:
Flashback: The prologue takes place seventeen years before the main plot.
Sanity Slippage: Donatello, still under the influence of Orochi's curse, has become a full blown Mad Scientist guided by what he thinks is the voice of Master Splinter in his head.
Science Is Bad: Genetic sciences have only caused harm in the comics, from the turtle creature that murdered a high school boy to Donatello's cloning experiments while under the influence of the Curse of Orochi. Donny's clones are used for him to abuse as he practices to create a clone of Master Splinter as a Replacement Goldfish.
Sliding Scale of Idealism Versus Cynicism: Holy crap. If your only experience with the Turtles is that goofy cartoon series you watched when you were six, with defanged baddies and wise-crackin' youngsters, you are not gonna be prepared for the level of violence and gore this piece dishes out. As for the statement this makes about the world, check out this page directly contrasting the idealism of a child with the psychotic actions we've just witnessed from one of the "heroes".

People like that are called heroes, right? And heroes, they don't do bad things, right?

Take That!: This Kakabakashii delivers jabs at the 1987 incarnation of Michelangelo, particularly having his nunchucks replaced with a grappling hook in the show's later episodes and speaking like a California surfer.
Time Skip: To a time where the turtles are in their mid-30s.
Wham Episode: Orignally Chapter 17, but was split into three chapters (17, 18, 19) due to its size. Now Chapter 18 is the aforementioned Wham Episode.
What the Hell, Hero?:

Renoir tells off Nobody for allowing him to enter his home and possibly endanger his sister on the grounds that if Renoir did attack his family, Nobody would know for certain that he was still a feral mutant and put him down.
---