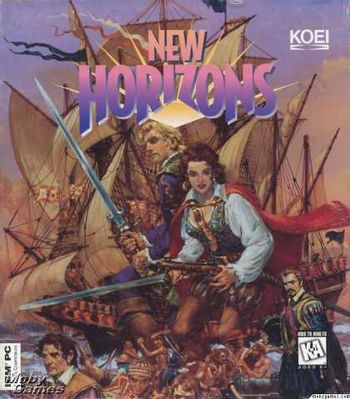 The second installment of the
Uncharted Waters
series by
Koei
,
New Horizons
was released in 1994 for
PC-98
,
Super Nintendo Entertainment System
, and
Sega Genesis
and later ported to PC,
Sega Saturn
, and
PlayStation
. It was also the last installment to be officially translated into English until the
Uncharted Waters Online
beta launched in 2010.
Like the original game, UWNH is a Wide-Open Sandbox with RPG Elements, offering you the world's entire oceans to explore. The trading and combat mechanics remain mostly the same with a few new tweaks, but the exploration mode of the game was completely revamped: you now gain fame not only by discovering remote ports but also by searching native villages for unique discoveries, ranging from geographical or cultural wonders to exotic plants and animals. You can then sell these discoveries to the highest bidder, as well as make maps of your voyages and sell them to cartographer guilds for a nifty profit.
Storywise, the second game takes place some 20 years after the first one and moves away from a single protagonist to follow six new main characters. Each of them hails from a different nation (England, Holland, and Italy are added to the first game's Portugal, Spain, and Turkey as major sea powers) and has a unique and sometimes overlapping storyline. Additionally, there are now three kinds of fame: explorer (gained by discovering world wonders and remote ports and selling maps), piracy (gained by defeating enemy fleets, even if it is not, technically, piracy), and trade (gained by investing large sums into ports and fulfilling fetch quests), with each character having to build up one of them to advance their respective story.
The game has a character sheet. Please add put character-related tropes there!
Like the original game, New Horizons can be downloaded from abandonware sites and runs smoothly in DOSBox. The SNES port was also released on Wii and Wii U Virtual Console, while the PC-98 port was released on Steam for Windows packaged in an emulator in select regions in 2017.
---
The game provides examples of the following tropes:
---