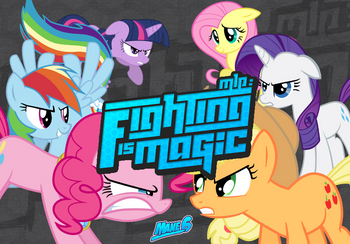 My Little Pony: Fighting is Magic was a fanmade Fighting Game being developed by Mane6
. It featured characters from the first season of the TV series My Little Pony: Friendship Is Magic.
The final version of the game was to feature 17 characters.
There is a forum discussion about it (and Them's Fightin' Herds) here
. A state-of-the-state overview of the game can be found here
.
Production was halted on February 8th 2013 due to a cease and desist order from Hasbro
, while Mane6 attempted legal negotiations. On March 2nd of 2013, Mane6 revealed
that, although their efforts to get special permission from Hasbro to continue the game have met with nothing but dead ends, they still plan to finish the game in a different form (but retaining all of the game mechanics). To that end, Lauren Faust herself has joined the Mane6 team to design all-new characters. Also on March 27, 2013, the Skullgirls Indiegogo campaign raised $725,000 USD, allowing Mane6 use of that game's engine for free. In January 2014, Lauren Faust revealed the first un-finalized character design for a reindeer character.
A Tribute Edition of this game (with complete character designs for Rainbow Dash and Fluttershy) can be found here
.
A Mega Edition of the game is currently being worked on. The most recent version includes Trixie (but not Rainbow Dash or Fluttershy).
On October 31st 2014, an image
of a mysterious book with what appears to be a lamb peeking out of it was posted on Mane6's twitter, and on August 28th 2015, the game's spiritual successor was revealed to be
Them's Fightin' Herds. Please put all tropes pertaining specifically to that game on that page.
---
Anything that has not been officially confirmed goes on the Wild Mass Guessing page.
---
My Little Pony: Fighting is Magic contained examples of: (Character-specific tropes go here)
---