"After all, it's our mission to protect human lives, and that includes the lives of criminals."
—Supervisor from Emergency 4 / 911: First Responders.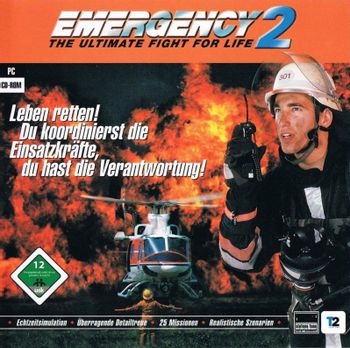 Emergency is a series of real-time strategy or simulation games that places the player in the shoes of an incident commander. The task at hand is to coordinate Emergency Services—firefighters, emergency medical services, police officers, and engineering crews—to bring a quick end to various disasters and emergencies with a minimal loss of life. All games in the series have a campaign mode with a series of scenarios requiring a response to a disaster or some other such incident. Later games also include Endless Game and Challenge modes that place the player in command of local Emergency Services and pit the player against random emergencies ranging from injured persons and pickpockets to earthquakes and gas line explosions.
This is a German-developed series developed by Sixteen Tons Entertainment, starting in 1998, excluding Emergency 2012/2013, which was developed by Quadriga Games and released in 2010. Note that Emergency 4 was published by Atari in the United States as 911: First Responders.
Emergency 5 was released November 28, 2014. It's available on Steam. It was delisted as the subsequent sequels are Mission-Pack Sequel, culminating with Emergency 20.
Not to be confused with the 1970s American TV-series Emergency!.
---
Emergency contains examples of:
---