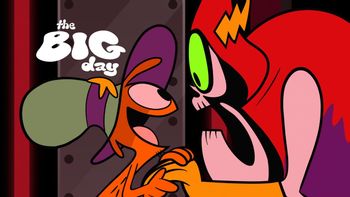 The Big Day
While attempting to destroy a planet to top Lord Dominator, Lord Hater finally captures Wander and Sylvia. But before he can destroy them, Wander suggests that he kill them in a big way and not just for a quickie. Wander then tries to help Lord Hater plan their destruction in order to make it a perfect day, but little does he know, Peepers wants him to stay on task.
Tropes appearing in "The Big Day":
---
The Breakfast
In this special simultaneous episode, Wander and Lord Hater go through their opposite daily lives as they struggle to make breakfast in different ways.
Tropes appearing in The Breakfast:
---