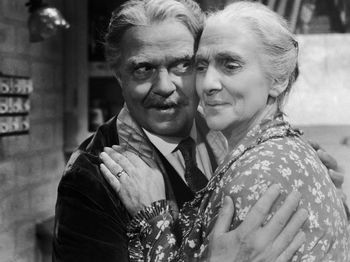 Honour thy father and thy mother.
Make Way for Tomorrow is a 1937 dramatic film directed by Leo McCarey.
Barkley and Lucy Cooper, an elderly married couple, have just lost their house of many years to foreclosure. Instead of graciously offering to take care of their elderly parents, their adult children — George, Cora, Nellie, and Robert — are horrified at the idea of having them both in their homes. As a result, they decide to separate their parents, promising day after day that they will reunite them.
George takes the "burden" of his mother, and Cora takes her father. Knowing they are considered outsiders — even useless — in the fast-paced lives of their children, the Cooper parents try to make the best of their situation, but to no happy avail. Then, they spend a lovely afternoon in New York City, remembering those early days in their marriage, when the world was so promising and new.
In its day, this film was panned by audiences for McCarey's uncompromising ending (which he fought the studio to keep intact). Now, it's lauded for its subtle, beautiful story, observing the aging and the people they leave behind.
---
The Players:
Victor Moore—Barkley Cooper
Beulah Bondi—Lucy Cooper
Thomas Mitchell—George Cooper
Fay Bainter—Anita Cooper
Barbara Read—Rhoda Cooper
Maurice Moscovitch—Max Rubens
Elisabeth Risdon—Cora Payne
Minna Gombell—Nellie Chase
Ray Mayer—Robert Cooper
---
This work consists of the following tropes: