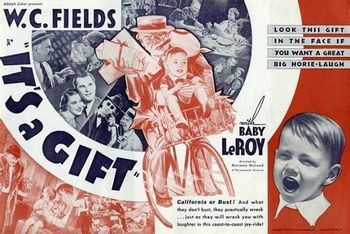 Harry Payne Bosterly: You're drunk!
Harold: And you're crazy. But I'll be sober tomorrow and you'll be crazy for the rest of your life.
It's a Gift is a 1934 film directed by Norman McLeod, starring W. C. Fields.
Fields is Harold Bissonette (pronounced Bis-so-NAY), owner of a not-exactly-thriving grocery store in New Jersey. Like many Fields protagonists he is trapped in a miserable home life, constantly nagged by his shrewish wife Amelia and irritated by his loud, bratty young son Norman. His older daughter Mildred is not quite as actively antagonistic but she's certainly selfish, caring only about her love affair with handsome young bank clerk John Durston.
Harold dreams of escape from his domestic prison, and has a fantasy of buying an orange grove out in sunny California. When his Uncle Ned dies and leaves him with a cash bequest, Harold actually buys the orange grove, much to his wife's horror. They then go on an arduous cross-country road trip, only to find that the "orange grove" Harold bought isn't what it was made out to be.
Commonly considered one of Fields' standout comedies. Recycled several gags from Fields' silent movie days, like the back porch sequence that originated with silent film It's the Old Army Game.
---
Tropes: