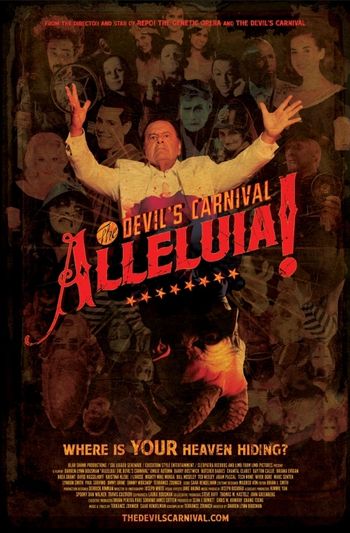 "Again!"
— Lucifer, opening the first song
Alleluia! is the sequel to The Devil's Carnival. Lucifer continues sending condemned souls back to Heaven, including one Ms. Merrywood. This is the prelude to all-out war... but first, he needs to tell a robed figure a story about Heaven, "the Filly and the Lapdog" (cf. "The Ass and the Lapdog"). In this story, about what happens when a "filly," June (Emilie Autumn) fraternizes with God's prize "lapdog," The Agent (Adam Pascal); additionally, the workings of Heaven are explored, introducing figures such as The Translators (Jimmy Urine and Chantal Claret), The Publicist (Ted Neeley), The Designer (David Hasselhoff), The Librarian (TechN9ne), and The Watchword (Barry Bostwick).
The film was released on a road tour in 2015. One trailer can be found here
, or the promotional website here
.
---
Featured tropes in tonight's film include: