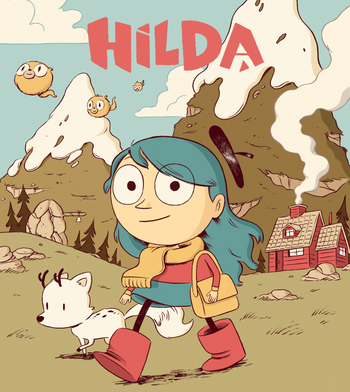 Johanna
: "You slept well then?"
Hilda
: "Well, the wind shook the tent all night.. it was cold, wet... overall pretty traumatic.. but such is the life of an adventurer."
— Hilda and the Troll
Hilda (also called Hildafolk) is a series of graphic novels by British cartoonist Luke Pearson and published by Nobrow Press under their children's imprint, Flying Eye Books.
All of the books revolve around the eponymous Hilda, a bright, adventurous young girl living out in the mountainous wilderness with her mom and deer-fox buddy, Twig.
So far, the series consists of:
The series as a whole is noteworthy of being quite the audience and critic-favorite, praising its visuals and characters, particularly Hilda herself. The second and fourth books are noteworthy for being nominated and winning literature awards from the likes of British Comic Awards and the fourth book itself won the Dwayne McDuffie Award for Kids' Comics in the year 2015.
Netflix announced on June 2016 that an animated series based on the books was coming in 2018
from Silvergate Media and Mercury Filmworks* with assistance from Atomic Cartoons and released it on September 21, 2018. A second season was confirmed during the show's panel at New York ComicCon a few weeks later, and released in December of 2020, while a movie based on the sixth and final novel was released in December of 2021. In November 2021, a third and final season was greenlit, and is scheduled for release in December of 2023. Follow updates on the Netflix show here.
The Netflix animated series, which ran from 2018 to 2023, has its own page.
---
The Hilda series contains examples of these tropes:
---