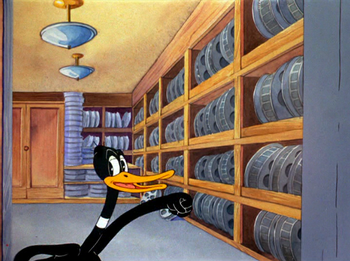 "Motion pictures are...your best...entertainment!"
— A lion speaking, from the opening of Daffy Duck's film "Gold Is Where You Find It"
Daffy Duck in Hollywood is a 1938 Merrie Melodies cartoon directed by Tex Avery, and the last of three shorts he would direct with Daffy Duck. The short was his sixth overall appearance, and his third cartoon in color.
The plot is set at Wonder Pictures Studio ("If it's a good picture—it's a WONDER!"), where producer I.M. Stupendous orders one of his directors, Von Hamburger, to rush the latest motion picture through the pipeline. Unfortunately for the portly filmmaker, madcap waterfowl Daffy Duck has decided to pay a visit to the studio, and, for no particular reason, he proceeds to constantly screw up Von Hamburger's attempts to make his movie, which eventually concludes with Daffy stumbling across the studios film library, prompting him to try his hand at making his own movie by randomly grabbing films out of the cans and splicing them together without any rhyme or reason, and switching out his franken-film with the director's finished product.
Not to be confused with the short "Hollywood Daffy", nor the video game called "Daffy Duck In Hollywood" (which shares only the setting and character with the cartoon).
It is also worth noting that Daffy's oddly assembled "movie" in the cartoon, Gold Is Where You Find It
, is generally considered to be an early precursor to the modern remix video phenomenon that we call YouTube Poop.
---
Tropes:
---