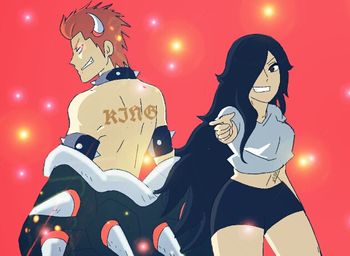 Gangster Mama is a Fan Webcomic based on the Super Mario Bros. franchise. Just as the series main antagonist Bowser is about to defeat Mario once and for all, a mysterious tough as nails young woman inadvertently saves the red plumber's life by kicking the Thwomp that would have ended him out of the way. However, she's not here to oppose the koopa king. Instead, she arrives on the scene to tell Bowser to take responsibility for his actions!
As it turns out, this young woman (named Jasmine) is carrying Bowser's future son inside her and threatens to go to the authorities and tell them that he (unknowingly) had sex with a minor unless he either pays child support or helps raise the new addition to the koopa family by marrying Jasmine!
Too proud to pay child support, Bowser reluctantly takes in Jasmine on two conditions. One, she takes care of the castle on a daily basis and two, receives a genuine kiss from her baby daddy within 30 days or else be exiled from the castle! Complicating this of course is Bowser's refusal towards Jasmine's advances and the arrival of his other children, the Koopalings!
If the above didn't tip you off, Gangster Mama is rated NSFW for explicit language and suggestive content!
Created by Tapastic user Shy Girl. Gangster Mama can be viewed at [1]
.
---
Gangster Mama provides examples of:
Real Women Have Curves: Invoked by Jasmine after Bowser makes a passing comment about her getting fatter due to the pregnancy.

She even tries to seduce Bowser at one point by flaunting her full pregnant figure while wearing nothing but a bikini!

Jasmine's older sister Jenni isn't lacking in the breasts or hips department herself.

Red Oni, Blue Oni: Jasmine's prone to using violence in just about any situation even if there's no need to be violent. Jenni on the other hand is very calm and collected only using her fists when the situation actually calls for it.
Rings of Death: Averted as Jasmine easily breaks one of the two rings Wendy throws at her...with her teeth!
Running Gag: Ludwig and that PlayStation 2 Bowser allegedly bought him to shut him up. Even after the time skip, its *nowhere* to be seen nor does Ludwig mention owning one

Bowser and Jasmine being interrupted during sexy time.

Screaming Birth:

Jasmine's so loud when giving birth to Bowser Jr. that the Koopaling's can hear her on the other side of the castle!

Sex God: Bowser leaves Jasmine unable to stand on her feet at first the morning after he deflowered her.

He's still able to do this when the two start having regular sex around Chapter 20.

She's Not My Girlfriend: A variant of this happens in discussion!

Goomba: *cheerful* Congrats on the new wife! I knew you would finally settle down!

Bowser: *offended* She's not my wife!

Sibling Rivalry: Ludwig is not pleased at the thought of a rival that could usurp his position as next in line to ascend the throne. His jealousy over the soon to be Bowser Jr. drives the subplot of Gangster Mama as Ludwig hatches scheme after scheme to try and evict Jasmine before she can win the bet imposed on her at the start of the comic.

At the end of Chapter 15 after yet another failed plot to give Jasmine the boot, he and the other koopalings wake up just in time to see their father with scratches on his back and a satisfied but smug Jasmine proudly proclaiming she finally got a genuine kiss from Bowser on the lips (and other places too) thus winning the bet. To say Ludwig got served his just deserts would be an understatement!

Roy and Morton Jr. get into a fight which later requires Jasmine to take time out of her day to patch them up.

Sir Swears-a-Lot: Jasmine though Bowser gets in on it too!
Shipper on Deck: Bowser's minions (mostly goombas) fully support Bowser X Jasmine much to Bowser's chagrin.
Teen Pregnancy: Jasmine's 16 and underage as well
The Smurfette Principle: Wendy is this among the seven Koopalings.
The Tease: Jasmine's well aware of what her momma gave her and uses it to make Bowser's minions gush. Doesn't work as well on the Koopa King however as he's actively trying to avoid his lips touching Jasmine's!
Time Skip:

Chapter 21 takes place about 4 years after the last official chapter. Bowser Jr. can now walk and talk, but most interestingly, Luigi seems to have become an official item with Jenni causing Bowser to rage when he finds out.

Tsundere: Bowser acts like Jasmine's feminine charm doesn't work on him. He doesn't fool the reader one bit!
Women Are Wiser: Subverted in Jasmine's case as she's not that much smarter than Bowser being a powerful Amazonian beauty delinquent and all who causes just as much trouble if not more.

Played straight in Jenni's case as she's the voice of reason in her relationship with Jasmine.
---