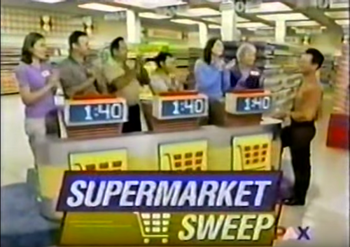 "Is this one of your fantasies? You see a big, beautiful supermarket, and they say to you... 'Go ahead, do what you've always wanted to do! Run wild! Grab everything you can get your hands on! Everything in this supermarket is yours — and it's all free!' From Hollywood, where dreams do come true, it's the return of the one and only Supermarket Sweep!"
Johnny Gilbert
's opening spiel on
the Lifetime debut
(February 5, 1990).
Game Show created by Al Howard that originally began development for ABC in 1965. The show was produced by Talent Associates, who had already pitched another show to ABC, Get Smart. The game, which was broadcast from grocery stores across the country, was simple: in the first round, three players stood behind cash registers and were shown a product from the store by host Bill Malone, then had to guess how much it cost. The player closest to the actual price won that product and 10 additional seconds of sweep time (each player began with 1:30). After a certain number of products, their teammates did the shopping, running up and down the supermarket aisles grabbing food and special items to get the largest total while the announcer (initially Wally King, later replaced by Richard Hayes) did play-by-play. At the end of the sweep, the team that picked up the largest cash value of groceries throughout the market was the winner and came back on the next show, although everyone got to keep their groceries.
The development of Sweep wasn't easy: the first test shows had women running the aisles, which the producers felt wouldn't be thought of kindly by female viewers. Further, one player had a heart attack, resulting in executive producer Leonard Stern adding a rule stating that runners had to be 40 or under and have a note from a physician certifying they were healthy enough to participate note (this was Stern's only contribution to the show despite his credit, mainly because he was pretty much occupied with overseeing Get Smart and developing three sitcoms of his own: He & She, which aired on CBS and starred real life married couple Richard Benjamin and Paula Prentiss as cartoonist Dick Hollister and his wife, Paula, a social worker, who deal with the fact that Dick's cartoon, "Jetman", is suddenly adapted into a network television series starring egomaniacal actor Oscar North (Jack Cassidy) as the titular "Jetman"; The Hero, which aired on NBC and starred Richard Mulligan as Sam Garrett, the star of a fictional western TV series called Jed Clayton, U.S. Marshal; and Run, Buddy, Run, which also aired on CBS and starred Jack Sheldon as Buddy Overstreet, an accountant who ends up on the run from comical gangsters after accidentally overhearing their plans while taking a steam bath). Having the ladies do the pricing and the men doing the sweep improved the show, as the men were faster and more active. ABC opted to do some test showings in movie theaters, which brought the most enthusiastic reaction the network had ever seen for one of its daytime shows.
Sweep debuted on ABC's daytime schedule on December 20, 1965, although some critics weren't too kind to it. Talent Associates founder David Susskind, who had a reputation of being associated with "class" shows, was quick to note to TV Guide that while it saved his company and brought in some profit, he wasn't involved with the show.
The series ended on July 14, 1967, after just 19 months, and by all indication vanished into obscurity over the next two decades, with Al Howard creating another show during the interim, Sale of the Century on NBC. Eventually, though, Howard brought Sweep back in 1990 on Lifetime, now also serving as executive producer and producing the show under his own production company, Al Howard Productions. Now hosted by David Ruprecht and featuring Johnny Gilbert as the announcer, the front game now had a considerable variety and groceries were no longer awarded (indeed, the supermarket was a soundstage) — instead, the teams played the Big Sweep for cash with the highest total playing a Bonus Sweep for another $5,000. The other major difference is that there were no returning champs, although some teams were invited back for a Sweep of Champions or Second Chance Week.
The revival, which was quick to note that it was returning and not an all-new property, ran until 1995. After several years of reruns, Ion, then called PAX, revived it from 2000 to 2003. Gilbert initially remained with the show during the Channel Hop, but was later replaced by Randy West.
Compare and contrast Shop 'Til You Drop, which it was paired up with during the Lifetime and PAX runs (though STYD got a short-lived run on what is now Freeform from 1996 to 1998).
In 2017, Fremantle Media, who holds international rights as well as the rights to Sale of the Century, obtained the rights to the US version from Al Howard, and started airing reruns of the series on their network Buzzr in January 2018. In August 2019, Fremantle Media announced that they were planning to air a full fledged revival of Supermarket Sweep and that they named Leslie Jones to serve as host and executive producer. With several networks showing interest, it was announced in January 2020 that ABC had picked up the series, neatly bringing the show's airing history in a full circle.
---
---
This show provides examples of:
---
This is Johnny Gilbert/Randy West speaking for Supermarket Sweep. Supermarket Sweep has been an Al Howard Production.