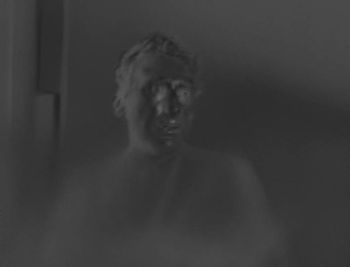 The Control Voice
: On the fabulous spawning grounds of Man's ever-increasing knowledge of science and technology, ancient, half-forgotten legends seemingly have no place. Except one: The legend of the
Gordian Knot
, a knot so intricate and convoluted that no man could untie it. For there are problems so perplexing that they are seemingly impossible to solve, when Man ventures to the outer limits of his experience...
Test pilot Jim Darcy (Dewey Martin) and his wife Linda (Mary Murphy) are having a really bad day... one that might literally never end.
It all starts when Jim, Linda and their young daughter Janie (Emma Tyson) arrive at Palmville Air Force Base so Jim can test an X-15—like jet plane while his family watches. Linda drives along the ground, following her husband's plane, while Janie pedals her tricycle around the day care area. But then Jim's jet malfunctions and crashes! And this shocks Linda so much that she drives the family convertible straight into a boulder! Both survive their accidents, but their troubles are just beginning — because all around them, Time Stands Still.
Or at least that's how it seems. As the Darcys try to figure out what happened to them, they realize that their simultaneous crashes have somehow thrown them Just One Second Out of Sync with the timestream. Time is actually moving forward to the critical moment of their accidents, but it's moving so slowly they can't perceive it. Also, they can't physically move anyone or anything except themselves and the objects on their persons and in their vehicles. But all they have to do is get back to their places in the jet and the car and wait for time to resynchronize itself.... right?
Wrong! It turns out that Janie is riding her bike into the path of an improperly parked truck! So now the Darcys have to save themselves from getting killed or stuck in time, and their daughter from getting squashed flat, but at least there's nothing else to worry about...
...until they encounter the episode's Monster of the Week! This "Limbo Being" (Kay E. Kuter), who looks like a glowing, somewhat blurry photographic negative of a man in a suit and tie, explains everything the Darcys need to know — after they threaten to set him on fire with a road flare from Linda's car. The Being reveals that the Darcys returning to their proper places before time resynchronizes is really important. If they fail, as the Limbo Being did, they'll share his chilling fate... forever trapped in "a black, motionless void" of "eternal nothing". The Being claims he can escape only if one of the Darcys takes his place, but they keep him away with more road flares while they use his information to figure out how to save themselves and their daughter. But how can they do that when they have to be in their vehicles at the precise moment Janie is about to get run over?
Jim comes up with a way to rescue Janie! He uses a knife in his uniform and some shrapnel from his crashed jet to cut the seatbelts out of their convertible, then wraps them around the threatening truck's handbrake, creating a Rube Goldberg Device that will pull the brake back when time resynchronizes... he hopes. Jim and Linda return to their vehicles, survive their respective crashes (again) when time restarts, then rush to check on Janie — who's alive and well, because Jim's contraption worked. However, since Jim and Linda re-entered normal time at the same moment they left it, they've forgotten their entire limbo experience. So how did they know that Janie was in trouble? "It must have been a premonition", Jim says as he and his family walk off together.
The Control Voice: Man is forever solving the most perplexing problems as he ventures ever further into the unknown. But where are the outer limits of his ingenuity? Will he ever encounter a problem, a Gordian Knot, which he cannot ultimately cut?
"Troped in this limbo world between the present and the future":
---