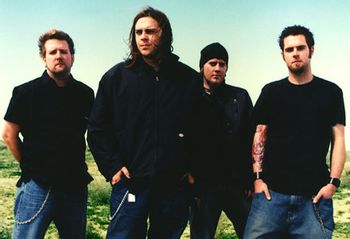 Seether is a South African rock band from Pretoria, South Africa formed in 1999. They were signed to Wind-up Records until 2014,
now they've jumped over to the Bicycle Music Company
after Bicycle bought most of Wind Up Records' catalogue and contracts before eventually merging with Concord Music Group in 2015. They started their career with the name of Saron Gas (taken from the back of a sound effects CD) and signed to Musketeer Records in South Africa. They changed their name in 2002 with their first major label debut,
Disclaimer
, taking their new name from a
Veruca Salt
song. The band embraces a brand of rock mostly associated with the
Post-Grunge
style of alternative music, complete with crunchy distortion and brooding textures.
Discography:

Fragile (2000) (as Saron Gas)
Disclaimer (2002)
Disclaimer II (2004)
Karma and Effect (2005)
One Cold Night (2006)
Finding Beauty in Negative Spaces (2007)
Holding Onto Strings Better Left To Fray (2011)
Isolate and Medicate (2014)
Poison the Parish (2017)
Si Vis Pacem, Para Bellum (2020)
---
The music of Seether provides examples of:
Tropes found in music videos:
---