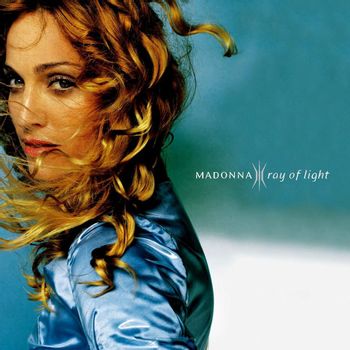 Ray of Light was Madonna's comeback album, released in 1998 to overwhelmingly positive reviews. Her seventh studio album, it was hailed as a more mature New Sound Album and spawned hits such as "Ray of Light" and "Frozen". It was also the first record where she referenced Kabbala mysticism.
Along with Like a Prayer it's often seen as one of her best albums. It was listed at no. #367 in Rolling Stone's Rolling Stone: 500 Greatest Albums of All Time.
"Frozen" was banned in Belgium from 2005 until 2014 because it was supposedly Plagiarism from a song by Salvatore Acquaviva, but this sentence was eventually overturned.
It is notably only her third non-soundtrack album up until American Life that didn't contain a #1 hit. "Frozen" stalled at #2 behind K-Ci and Jojo's "I'll Remember".
---
Tracklist:
"Drowned World/Substitute For Love" (5:09)
"Swim" (5:00)
"Ray of Light" (5:21)
"Candy Perfume Girl" (4:34)
"Skin" (6:22)
"Nothing Really Matters" (4:27)
"Sky Fits Heaven" (4:48)
"Shanti/Ashtangi" (4:29)
"Frozen" (6:12)
"The Power of Goodbye" (4:10)
"To Have and Not to Hold" (5:23)
"Little Star" (5:18)
"Mer Girl" (5:32)
"Has to Be" (Japanese CD release) (5:15)
---
Frozen tropes:
---