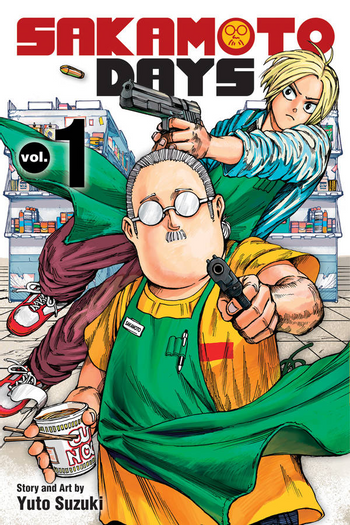 Taro Sakamoto is the top hitman in Japan, a
One-Man Army
feared and admired by both hitmen and targets. Until one fateful day when he met cute store clerk Aoi and fell in love with her. As Aoi didn't like that her boyfriend was a professional killer, he left the biz, married her, had a daughter, grew out of shape and settled as the owner of a convenience store, who's popular in his neighborhood as a handyman and a jack-of-all-trades.
But the penalty for leaving the Hitman Association was death... and after 5 years of peace, Sakamoto has been found by them...
Sakamoto Days is a comedy/action manga about an ex-assassin who tries to juggle his placid family life with the revenge attempts of the Hitman Association. It can be read legally in English here
, and Viz Media will begin releasing the physical volumes in spring 2022.
Compare The Way of the Househusband.
---
This manga provides examples of:
---