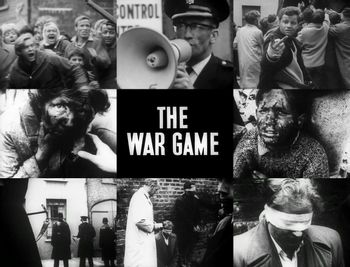 "Technically and intellectually, we are living in an Atomic Age. Emotionally, we are still living in the Stone Age."
Before The Day After and Threads, there was The War Game.
The War Game is a 1965 docudrama created by Peter Watkins. Its intention was to realistically portray the effects of a nuclear attack on Britain, specifically how utterly ineffective the plans of the British Government were in regards to preparing the country for surviving and rebuilding after such an attack. That the plans were so ineffective is largely because it would have been totally impossible to save even half the UK's population from death in the event of even the most conservative nuclear strike - the contemporary USA calculated that even she (the world's no.1 economy) did not have the medical supplies and facilities to treat those wounded in a single attack upon Detroit. Given her inability to protect her citizens in the event of an actual strike and the constant fear and paranoia that knowledge of its lethality would bring, successive British governments decided to keep the details of the 1955 Strath Report and its recommendations secret and focus the UK's limited resources on nuclear deterrance. As they saw it, the only nuclear strike the British people could survive was one that never came.
Originally created to be shown on The BBC, it was banned from television after the BBC judged the film to be "too horrifying for the medium of broadcasting." However the film did receive a limited theatrical release (and remains the only film to win an Oscar for Best Documentary while being a work of fiction) and was finally shown on television in its entirety in 1985, as part of a week long programming block commemorating the 40th anniversary of the Hiroshima and Nagasaki bombings.
---
This film provides examples of:
---