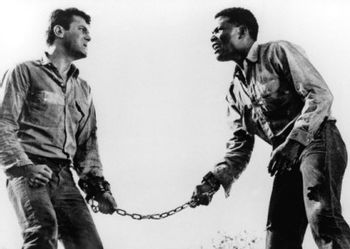 The Defiant Ones is a 1958 drama film directed by Stanley Kramer, starring Tony Curtis and Sidney Poitier.
Curtis and Poitier are John "Joker" Williams and Noah Cullen, two convicts who are among a group of prisoners being transferred by truck somewhere in the Deep South. When the truck crashes, Noah and Joker make their escape, which is made more difficult by the fact that they're chained to each other.
As Noah and Joker travel cross-country on foot, their mutual racial hostility slowly thaws into shared respect and even something like friendship. Meanwhile, Sheriff Max Muller (Theodore Bikel) leads a posse in pursuit of the fugitives.
Trope Codifier for the Chained Heat genre. Received eight Academy Award nominations—Poitier's Best Actor nomination was the first ever given to a black actor. Has been remade many times, including with a Gender Flip as Exploitation Film Black Mama, White Mama.
---
The Defiant Tropes:
---