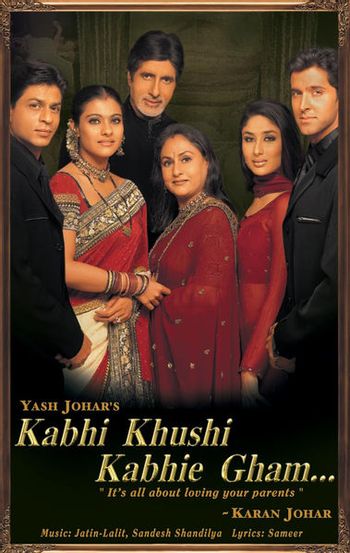 Released in 2001, Kabhi Khushi Kabhie Gham (Sometimes Happiness, Sometimes Sadness) was a commercially successful Bollywood film with an All-Star Cast, directed by Karan Johar. The film deals with the wealthy Raichand family. The oldest son, Rahul (who is adopted and has much angst about this fact), is disowned after eloping with an unsuitable girl. Ten years later, the younger son, Rohan, learns the truth about his brother's disappearance and sets out to reunite the family.
Opinions on this movie are sharply divided. For some, it's quintessential Bollywood, while for others, it's a Cliché Storm rife with Wangst. Either way, it's worth a watch.
---
This film provides examples of:
Actor Allusion: A subtle one. When Yash starts the song 'Aati kya khandala', the camera immediately cuts away to Naina, who laughs. Naina is played by Rani Mukherji, who had a role in the movie Ghulam from which the song originates.
Betty and Veronica: Naina and Anjali play with this trope. Naina is a Nice Girl and has known Rahul since they were children, making her fit the Betty role, while Anjali is a Genki Girl and knows Rahul for less than a year at best before she ultimately marries him, making her fit the Veronica role. However, Naina is a Socialite while Anjali is from a lower social class, which reverses their roles a bit.
High-School Dance: Pooja and Rohan go to the prom and declare their love for one another. They're in college, not high school, but the prom isn't so different. They're also in England, not in America, but whatever.
How We Got Here: First half of the film, as Rohan's grandmothers confess the circumstances of Rahul's disownment.
I Want My Beloved to Be Happy: Despite having been in love with Rahul ever since she can remember, Naina recognizes that he loves another woman and frees him from their arranged engagement, even telling him to pursue his love. Heartwarmingly, he appreciates her sacrifice and they share a tearful hug before parting ways.
---