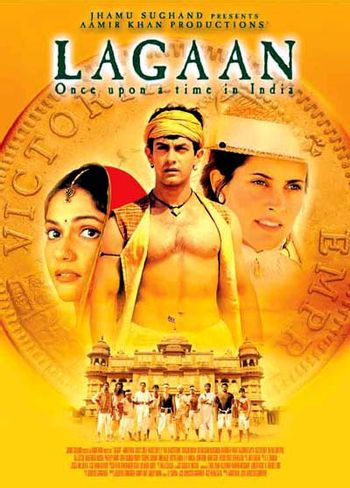 Lagaan (Tax) is a 2001 Academy Award-nominated Bollywood epic set during the British Raj in India. When the residents of a drought-stricken small village cannot pay their taxes (lagaan) to the British, a young man, Bhuvan, is offered a bet by the British Captain: if they can win a cricket match against the British team, he will cancel their taxes for three years. If they lose, they must pay triple. Bhuvan, to the horror of his fellow villagers, accepts the challenge, pointing out that without rain, the taxes would ruin them either way.
Bhuvan must then make a competent cricket team out of a rag-tag group of villagers. In the meantime, he catches the eye of the captain's good-natured sister, Elizabeth, which greatly upsets his childhood friend Gauri.
A rare example of a sports story about Cricket, and in 19th-century India at that. Its soundtrack, of course, mainly comprises Filmi Music.
Has nothing to do with Tengen Toppa Gurren Lagann, although one character is named Guran.
---
This movie provides examples of:
---