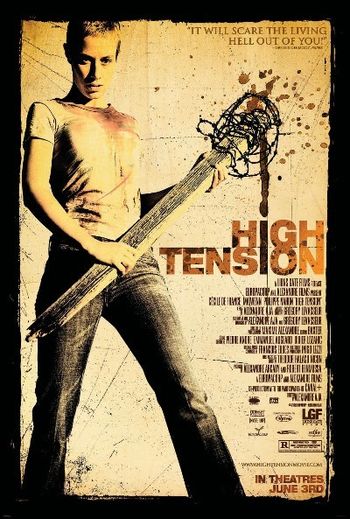 Haute Tension (High Tension, also known as Switchblade Romance in the UK) is a 2003 French horror film directed by Alexandre Aja and staring Cécile de France, Maïwenn Le Besco and Philippe Nahon.
Marie (de France) and Alex (Besco), are two college students and longtime friends on their way to stay at Alex's parent's house for the weekend so they can study in peace. In the night, however, an insane truck driving Serial Killer (Nahon) comes to the house and murders Alex's family. He then abducts Alex herself. Marie goes after her with the intention of rescuing her, but it turns out the killer is not who he seems...
Critical reception was mixed to negative, with criticism generally being directed at the twist ending which, as much as it might make M. Night Shyamalan proud, also generates a gaping Plot Hole.
The original version was rated NC-17, and some bits had to be cut for it to be rated R.
---
This films provides examples of:
---