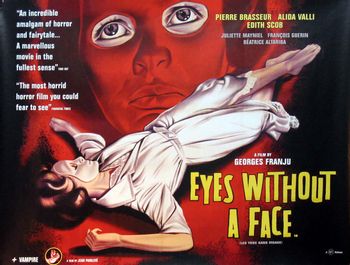 "My face frightens me, and my mask frightens me even more.
"
— Christiane
Eyes Without a Face is a 1960 French thriller/horror/melodrama film directed by Georges Franju.
It's about a Mad Doctor named Génessier (Pierre Brasseur) who has his nurse Louise (Alida Valli) kidnap young women to cut their facial skin and transplant it onto the face of his daughter, Christiane (Edith Scob). Christiane's face is an open wound ever since a car accident caused by Daddy Dearest...
---
This film provides examples of:
---