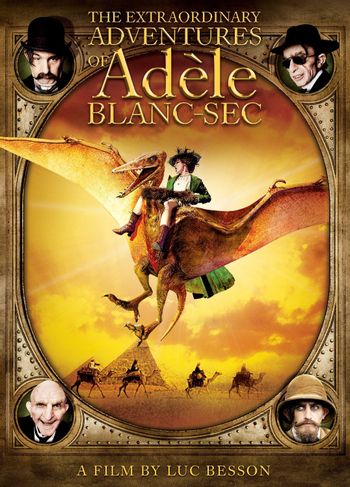 Adèle and the Secret of the Mummy ("Les aventures extraordinaires d'Adèle Blanc-Sec") is a 2010 Luc Besson movie starring based on Jacques Tardi's comic series of the same name. It stars Louise Bourgoin as the titular heroine Adèle Blanc-Sec and Mathieu Amalric as her nemesis Dieuleveult.
Set in the late Belle Epoque with steampunk elements, the movie centers on Adèle's quest to retrieve and revive a mummified Egyptian medic to be revived by oddball supernaturalist Espérandieu in order to cure her catatonic sister. By the time she gets back from Egypt, Espérandieu has gotten himself into trouble by resurrecting a petrified pterodactyl egg...
---
Adèle and the Secret of the Mummy provides examples of:
Chummy Mummy:

Patmosis himself. Also, near the end of the film, Professor Espérandieu's ritual is so strong that when it revived Patmosis, it ALSO activated ALL the mummies in the Louvre. Adèle therefore seeks them out in order to help her sister. They eventually decide to see the sights of Paris.
---